Advanced course in Urban Ecology: the green within the city
Date: February 19th, 2018 to February 23rd, 2018

Deadline for Applications: January 19th, 2018

Organizers / Lecturers: Ana Catarina Luz, Pedro Pinho, Cristina Branquinho, Paula Gonçalves, Filipa Grilo, Raquel Mendes, Joana Vieira, Margarida Santos-Reis (cE3c)

Location: Faculdade de Ciências da Universidade de Lisboa, Campo Grande, 1749-016 Lisboa
Schedule: 9:00-12:30 and 14:00-17:30 Lectures/Computer Lab – 4 days, Field trip – 1 day (36h)
Duration: 36 hours
Nº (min, max) students: 10-20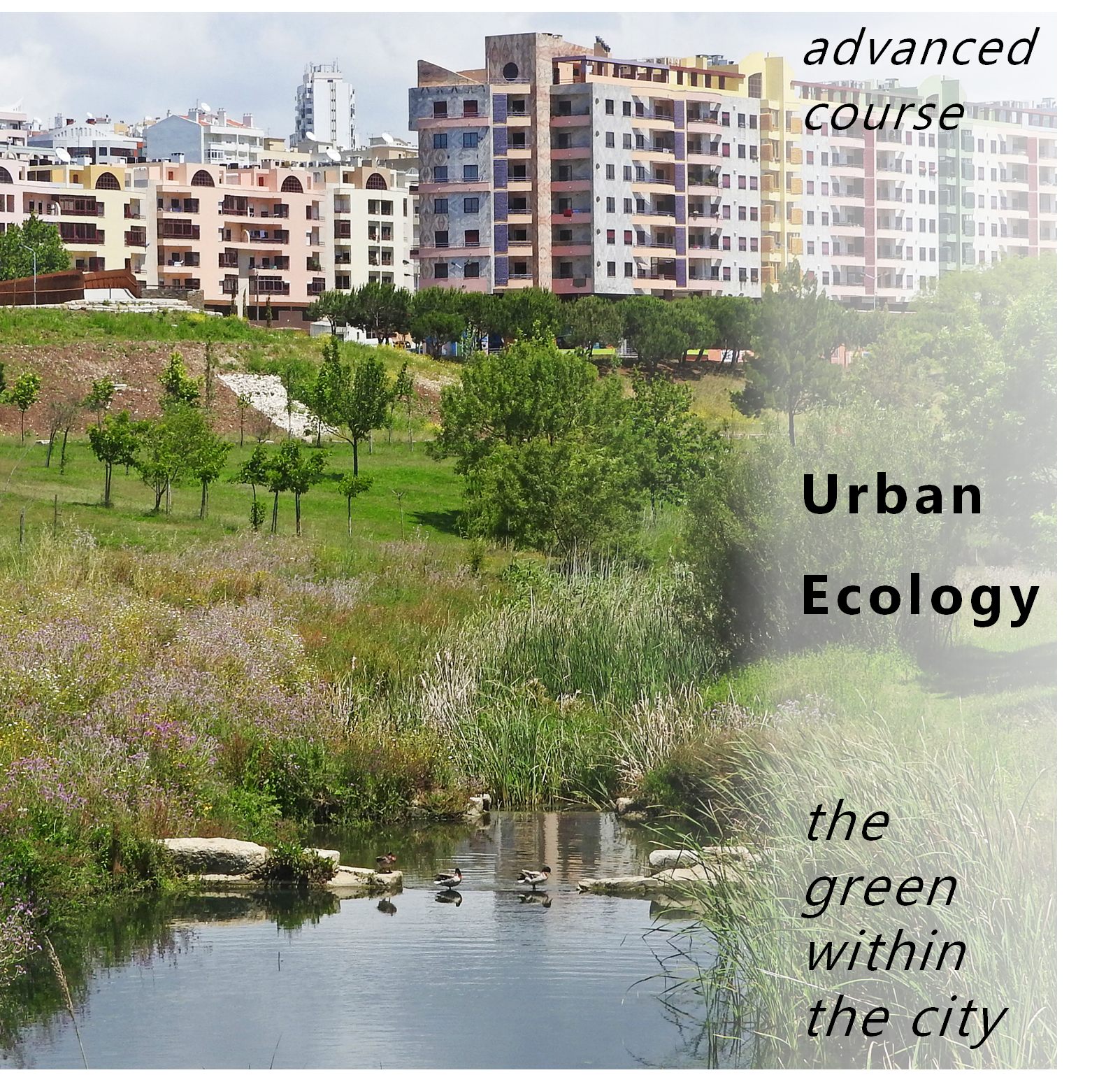 Context
The continuous urban development associated with the growth of the world population has become one of the most important challenges of the present time. Today, cities accommodate more than 54% of the world's population, a proportion that is expected to increase to 70% by 2050.
Trends in urbanization show that cities are becoming more complex and heterogeneous social-ecological systems with growing demand for natural resources mainly for infrastructure, housing, food, water, and energy. These coupled with generalized environmental degradation and rapid social transformation is posing growing challenges that require innovative and holistic ways of planning, managing and governing urban areas.
In this context, research is focusing on the role of the urban green infrastructure to deliver the ecosystem services necessary to city-dwellers. The urban green infrastructure is composed by the network of green spaces, such as public parks, urban forests, allotment gardens, green roofs, derelict lands, and street trees among other. These green spaces are important for addressing urban sustainability and resilience to global changes, as they play an important role to ensure the well-being of human populations.
Objectives
The goal of this course is to provide the participants with current and practical knowledge on urban ecology, including ecological and social aspects. It aims at providing an integrated approach on urban socio-ecological systems. The focus of the course will extend from learning how to assess ecosystem services, the use of ecological indicators, to evaluate the status and trends of the environment, as well as, people's perceptions and knowledge regarding biodiversity and ecosystem services. Additionally, participants will gain knowledge of concepts, methods, and tools through presentation of key findings from recent projects carried out in multiple case studies in European cities.
This course can have a recognition of 6 ECTs for FCUL PhD students enrolling in it as part of their first doctoral year. For students only requiring 5 ECTs recognized in their specific PhD programmes the last 6 hours of the course are not mandatory and the certificate will be on 'Topics in Urban Ecology'.
General plan
 A 5 days course, including lectures, presentation of case studies and short field trips.
Minimal formation of students: Bachelor in Natural Sciences or Social Sciences with interest in urban green spaces management.
Directed to: MSc or PhD students in Biology, Environmental Sciences, Ecology or related areas, postdocs and professionals working in related topics.